Agreement with Speedcast's local entity, SC Caprock, covers service delivery to Amazon Basin power plants and ensures reliability for operations
Rio de Janeiro, Brazil — December 7, 2021 — Speedcast, a leading communications and IT services provider, today announced that the company has been selected by Oliveira Energia for a multi-year contract to deliver connectivity service to 42 power plants in the countryside of Amazonas State. Brazilian power electric generator Oliveira Energia serves more than two million customers in the Amazon basin.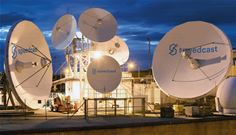 Speedcast Secures Multi-Year Contract with Oliveira Energia for Connectivity Backbone Supporting 42 Sites
The service is being delivered by Speedcast's Brazilian entity, SC Caprock. The agreement includes the now completed installation and launch of a C-band VSAT (very small aperture terminal) network, which includes delivery of a supervisory control system, CCTV, VOIP and internet access….